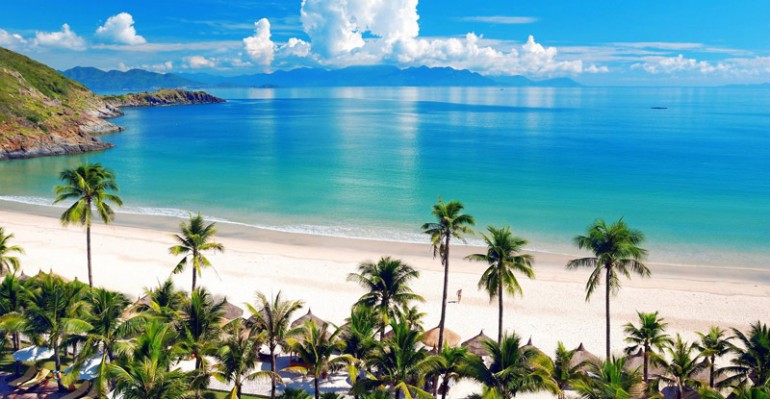 Vietnam is a Southeast Asian country with a variety of natural beauty and interesting culture. Both can be enjoyed while on vacation in Da Nang, a favorite tourist city in the central Vietnam region.
If you plan to visit here, you can use public transportation. But if you intend to drive around Da Nang all day, you should rent a motorcycle or car and stay at the Bana Hills Hotel.
This time my family and I decided to rent a car and were accompanied by a local guide. Come on, see my experience traveling 6 hours in Da Nang, Vietnam, who knows could be a reference for your trip.
Ling Ung Pagoda
The vacation trip in Da Nang starts at 10:00. We immediately rushed to Ling Ung Pagoda, located on the Son Tra Peninsula. This pagoda has a 67 meter tall Goddess Kuan Iim, which is also the tallest statue in Vietnam. The surrounding community believes that the presence of this giant monument protects the fishermen from danger.
The beauty of Chinese-style architecture adds to the beauty of this place. In addition to sculpture, there are also temples with beautiful gardens. Because it is located in the highlands, you can see the view to the beautiful sea from here. In total we spent about 90 minutes at Ling Ung Pagoda.
The Dragon Bridge
On the way to The Dragon Bridge, the next holiday destination in Da Nang, you can stop by several beaches. We finally arrived at the iconic bridge around 12.00.
The Dragon Bridge stands above the Han River. It reaches 666 meters in length and has been opened to the public since 2013. The scenery presented around it is very beautiful, perfect for taking photographs.
Because the night had to go to Hoi An City, we were forced to have to see The Dragon Bridge during the day. When in fact it would be more fun visiting this bridge at night because there will be a row of beautiful lights spoil the eyes.
Marble Mountains
Our next destination while on vacation in Da Nang, we headed for Marble Mountain. This beautiful place has a row of beautiful rock cliffs. You can enjoy the beautiful natural panorama, cultural heritage, and spiritual tourism.
There are two ways to reach the top of Marble Mountain, namely by climbing the elevator or stairs. If you choose the second option, you don't have to pay additional fees. Meanwhile, to use the elevator, you are required to pay VND15,000.
Unfortunately when he got there the elevator was being renovated. We were forced to climb hundreds of steps in about 15 minutes. There are several spots that should not be missed when visiting to the Marble Mountains. Among them are Huyen Khong Cave and Hell Chili. The view from up here is very beautiful, especially when the afternoon when the sun begins to set. We spent about 1 hour here and finished at 17.00. Next we went straight to the city of Hoi An.
If you only transit in Da Nang City like me, the above destination is suitable for you to visit because it won't take up much time. How about Friend Traveler, interested in exploring around here?
6 Hours Vacation in Da Nang Vietnam, Where Can You Go?